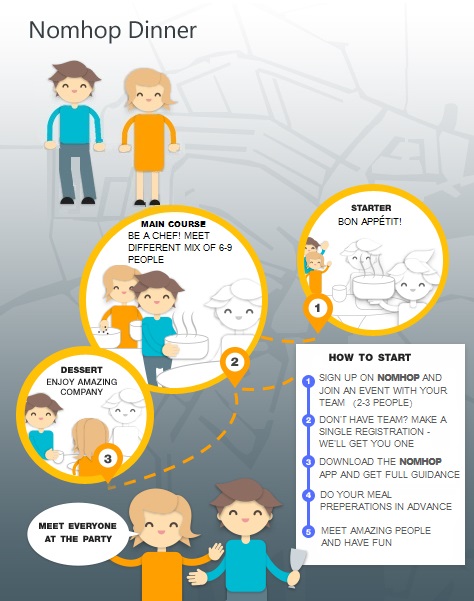 Join an event on Nomhop – get ready for a great social dining experience.
Nomhop enables exclusive home dining experiences for local and visiting food lovers in different places of the city.
Register for the event – you can either do this as a team of friends, or you can register alone and Nomhop will team-up you to form a team of up to three members. Your team will cook one part of the meal (a starter, main course or dessert) at your kitchen or it might be kitchen of your team member. Other two parts of the meal will be served at the homes of two other teams as your team will be strolling around the city to get there. Therefore, during one event you will have a three course meal at three different places! The process is easy – just follow the messages on your Nomhop app. Once you have registered – the game is on, and you will receive all of the info from the Nomhop app on the go!
Part 1: Your tasty adventure begins with a starter
Just before the event, Nomhop will notify your team of the location of the starter course. Once you have arrived, you will find two other teams, where one is the host that has prepared an amazing starter for you. In cases where your team is the one cooking the starter, you do not need to go anywhere; simply expect 4 to 6 guests (2 teams) to arrive at your place. Towards the end of your starter, the Nomhop app will notify you of the address for your main course, and you hit the road again.
Part 2: Excitement grows while you have your main course
Once you arrive, you will meet a bunch of new people (two more teams), as nomhoppers mingle throughout the city. As you enjoy your main course, you will get a notification (like before) with the address of your next destination – the dessert. Finish your meal, and off you go again! It's not only about good food, but also about meeting some amazing people.
Part 3: Finish with a great dessert. Wait, there is more – an after-dinner party!
At this point, you know pretty much everything about how it works – your team arrives at the dessert location and you meet two more amazing teams who will tell you the stories of their experiences strolling around the city with other nomhoppers. By the end of dessert, you may be realising what a surreal dining experience this was, and thinking that it will end now – but not really. You will receive yet another message, telling you where you can meet all of the other people you had dinner with to catch up on the evening's stories, share your experiences and have some fun.
Engage with the Nomhop community
After the event you will be offered the chance to leave feedback for your hosts on the Nomhop app. And yes, you will get some feedback yourself. Don't worry, the feedback can only be seen by you, so that you can improve your Nomhop score during the next event! Get connected with your local Nomhop community, or experience the city in a very different way while travelling. You can also initiate an event yourself!
Find your event on our homepage and register now here.

Want to learn more? Read Max's Nomhop event story here.